Over doctor Karim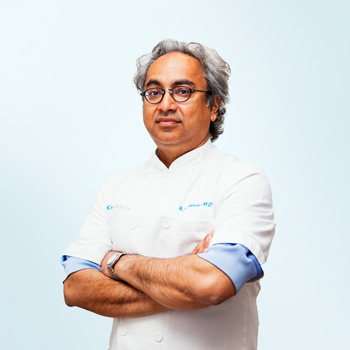 Dr. Karim seeks "real beauty"
"For me, the people behind the physical appearance are important"
"In order to help you, I have to understand you," says Dr. Karim.
"I try to make people more beautiful every day." When referring to beauty you immediately think of the sense of sight. For Dr. Karim, listening is just as important.
"I always start by listening, very attentively. I don't think about the swelling of the skin or the wrinkles. For me, the person behind each situation is very special. Because I want people to be more beautiful, but not only physically. It's not a question of turning someone into a Hollywood star, because I take people seriously. I don't want you to become someone else, but a fantastic version of yourself. I call it "real beauty".
It all comes down to these two words. If you want to be more beautiful, I take it very seriously. And if it's a serious matter (for example, because of an accident or a mastectomy), I'll make you more beautiful.
Reconstructive, cosmetic and hand surgery.
Dr. Refaat B. Karim (1964) is a well-known plastic surgeon. In 2017, he decided to abandon all administrative tasks and focus entirely on people again: reconstructive surgery, cosmetic procedures and hand operations. He is now available in more places than ever before, in the Netherlands and Spain.
Personal background.
His career began at the Amsterdam VUmc hospital where he specialized in 'transsexual vaginoplasty'. He then worked at the Slotervaart Hospital, Onze Lieve Vrouwe Gasthuis and was founder and director of Kliniek Amstelveen.
He lectures worldwide on post-circumcision/female genital mutilation (FGM) reconstruction. He is one of the few surgeons in the world who can perform this type of surgery.
At the age of eight, Refaat Karim moved from Bangladesh to the Netherlands with his family. The De Volkskrant newspaper wrote an article about his personal circumstances; you can see the original article in the section: 'In the media'. It is included in the the dutch area of this website.